What is the average cost for roof replacement
One frequently asked question we often receive is: "What is the average cost for roof replacement?". It's a simple question. However, the answer is not quite as simple as there are several of factors that can determine the average cost of a roof replacement. At Southern Siding Company, we provide a free estimate for new roof construction and roof replacements.
Do You Need Your Roof Replaced?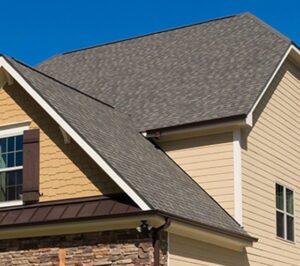 A roof replacement is when the old shingles are stripped completely from the old roof and new shingles and materials are put down.
To determine whether or not you need a roof replaced, ask yourself these questions:
Is the roof leaking?
Does the roof have rotted boards or trapped moisture?
Is there moss growing on the roof?
These common signs may indicate that you need to consider having your roof replaced.
Roof Replacement Cost Factors
Here are some of the factors considered when the question is asked "What is the average cost for roof replacement?"
Water Damage – Water damage may cause the price to rise because it involves more labor.
Material Type – Another factor that we consider when pricing a roof replacement is the type of materials chosen for the project. We work with several different types of roofing supply companies and brands which can all affect the cost. Additional materials needed may include decking, underlayment, vents, or even flashing. For instance, synthetic underlayment is often more expensive than felt because of the higher quality.
Roof Size – The size of the roof also plays a role in the overall price. The more surface area that we cover will determine the overall cost. This square footage includes garage space, patio space, walkways, and more.
Roof Slope – Generally speaking, if you have a steeper roof, you can expect to pay a little more because of safety reasons. Steep roofs may require special equipment for the roofers to use while they are working.
Geographical Area – We work with customers in the southern states of Georgia, Alabama, Tennessee, North Carolina, and South Carolina. Each area has different building inspection fees, material disposal fees, and hourly labor rates.
Receive a Free Roof Replacement Cost Estimate
Roofs are the crown of the home! Don't you want to make sure yours is in the best shape possible? If you would like to know more about having your roof replaced or would like a free quote, call us at 770-775-9374. We would be more than happy to help!