What is the Best Time of Year To Replace Roof Shingles?
We are often asked what is the best time of year to replace a roof. While we are able to replace a roof in any season of the year, we have found that there is one particular season that is better than others.  Read on to learn more about why the fall months are better than others.
Some experts find that Autumn is the best time of year to replace roof singles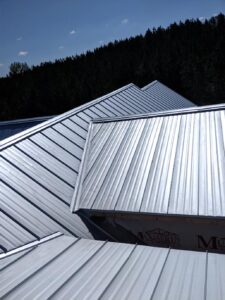 Usually by the time fall arrives, most of the stormy season is over. While there are still showers here and there, there are typically a lot less storms than in the month's prior. It is also a great time to assess the damages from previous storms over the spring and summer months. Most experts agree that roofing is best installed when the temperature is between 45 – 50 degrees Fahrenheit. Milder temperatures can help with creating a better seal of the asphalt shingles.
Another reason why fall is one of the best times of year to replace roof shingles is due to the potential savings on heating costs when winter arrives. A new roof can provide better insulation in your home, which can in turn save you money on your electricity bill. These savings may offset some of the costs involved with the new roof renovations.
Southern Siding Company provides residential and commercial roof installation, roof replacement and repairs for customers in Atlanta Georgia and surrounding areas. Whether it is an asphalt, slate or metal roof, we will ensure the highest quality and excellent customer service. Our rates are affordable and competitive. Contact us today for a free estimate or call us directly at 770-775-9374.